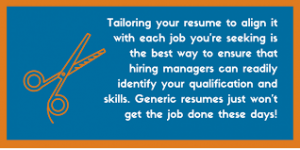 Job-tailored career documentation has become essential in today's professional marketplace. If a job candidate doesn't spend time producing adequately aligned resumes and cover letters, they're less likely to stand out and achieve their career aspirations. You generally have about 10 seconds to 'wow' the recruiter – and that's after it's passed through the pre-assessment ATS stage.
"Periodically, a recruiter or hiring manager will search the database by keywords … They scan the resume and application for a few seconds to determine if this is someone that they might want to check out further, or disregard." (job-hunt.org)
Even if you're planning on collaborating with a professional resume writer, first consider doing some research on what type of role/s and industry/s you're particularly interested in. While foundational transferrable skills may help you to transition or upgrade your career, a 'one-size-fits-all' resume is unlikely to work across divergent job types. Be prepared to fine-tune for each job you apply for.
It may turn out that you need multiple sets of career documentation to apply for various job types – complemented by a one-off LinkedIn profile that effectively showcases your professional brand – your most exchangeable skills and capabilities.
"LinkedIn is no longer an online resume. It's your digital reputation." (Jill Rowley, Social Selling Evangelist)
Here are some of the key reasons why job-tailoring your resume, cover letter and other career documentation matters:
Competitive job market: LinkedIn data reported last year that competition for jobs has almost doubled in Australia. In some industries there's a constant stream of tertiary graduates compounding this competitiveness. This means recruiter expectations are often higher. Your resume, cover letter and other career documentation really need to demonstrate your specific, advantageous, individualised offerings.
Non-human ATS stage: As I've previously touched on, if you haven't used job-relevant keywords and if you've overdone the 'beautifying' of your resume, there's a chance your application won't be seen by the human recruiter. Keywords, as specified in the job ads and/or position descriptions, are 99% likely to be within the ATS search criteria.
Time-poor recruiters: The high volume of job applications most recruiters are dealing with means they have less time to attentively review each application – this is why ATS is often applied. Use those 10 seconds wisely, to immediately validate your job relevance – to convince recruiters to keep reading.
Concise relevance is key: Don't be too cautious to 'slash' unnecessary content, such as earlier, less-job-relevant employment history. Only include detail that can be associated with – or that benefits – the role you're applying for. Also fully align with recruitment specifications, such as length of resume and how selection criteria should be addressed. Consider making direct contact with the recruiter if any clarification is required.
The job tailoring of your resume, cover letter and other career documentation will likely indicate to recruiters your strong work ethic and your willingness to go above and beyond to hit the brief. It may feel like a time-consuming – and possibly expensive – process to job-customise each application, but it will be worth it.
________________________________________________________________
Walton's Words has written a wide variety of career advancement documentation that accommodates applicant tracking and keyword optimisation systems – that assures the candidate is on-target with their application. The resume, cover letter, selection criteria and/or LinkedIn profile we produce for you will be engaging and aligned. Give us a call or drop us a line if you'd like to discuss your career documentation needs further.