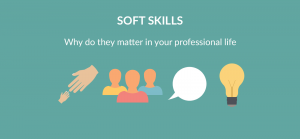 While most roles have necessary technical or hard skills, it's often the showcasing of your complementary soft skills that will set you apart from other job candidates. Also described as your character traits and/or your interpersonal skills or attitudes, they highlight your ability to work well (e.g. time management and problem solving), including with others (e.g. conflict resolution and collaborative communications). In the USA, it was recently reported that 67% of HR managers were more likely to hire someone with relevant soft skills, when they were lacking core hard or technical skills, as opposed to 9% without those soft skills (while in possession of hard skills). It's apparently deemed as easier to train people up in necessary hard/technical skills.
"Susan Vitale of iCIMS said, 'hard skills might get your resume looked at' but soft skills 'help you stand out and get you hired'. You must still possess the requisite technical skills to get the job you want, but without soft skills, you can't compete." (Resumegenius.com)
I've often written about the importance of job tailoring for each of the roles you apply for, including via keyword optimisation. Integration of specific soft skills is as important as the hard skills. For example, if you are an IT specialist, prospective employers are just as likely to want to know how well you can engage with your customers and team members, and how well you can manage concurrent and conflicting requests. In addition to the more personalised cover letter, your resume and other relevant career documentation should also be used to promote your soft skills.
 "Traditional wisdom says to leave these [soft skills] for your cover letter. However, if hiring managers are only reading the cover letters for the top tier of applicants, you don't want to miss your opportunity by not showcasing soft skills in your resume." (Theundercoverrecruiter.com)
Some of the most commonly recognised soft skills are as follows:
Communications          Customer service          Problem solving
Organisation          Critical thinking          Teamwork
Attention to detail          Negotiation          Persuasion
Common sense          Resilience          Consultation
Proactivity          Emotional intelligence          Persistence
Collaboration          Adaptability          Creativity
Self-motivation          Respect          Consideration
Public speaking          Leadership          Networking
Interpersonal          Innovative          Strategic & Tactical
When putting together your career documentation for each application, take your time to ensure alignment with the core requirements as specified in the job ad and/or position description. A well-considered combination of hard and soft skills will ensure an ATS-aligned application. And keep in mind that the human recruiter will most likely be evaluating your 'fit' for the employer organisation from both perspectives.
________________________________________________________________
Walton's Words has extensive experience in helping job seekers compile professionally written, career-selling documentation. We can help construct resumes, cover letters, LinkedIn profiles, selection criteria, and any other documentation that will help you win your dream role. So drop us a line or give us a call if you'd like some assistance with your next career step.