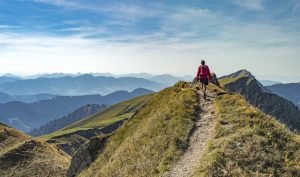 As I touched on earlier in the year, there are going to be many of us who've had to take a COVID-19-fuelled career break. There's no doubt stress surrounding such forced circumstances, where the career break wasn't intentional. But this can still be an opportunity to nourish and advance your professional offerings, including via more personal activities. In today's job market, career breaks are far less likely to be negatively perceived by recruiters and prospective employers. These days, both parties are more open to the potential benefits derived from non-work periods.
"Workplaces are becoming more flexible, education and information are more accessible, which gives people options they never had before. This entices people to make a change they possibly wouldn't have previously." (Robbie McIlraith, Stellar Recruitment)
Deliberate on your future
Whether forced or unforced, a career break could be the ideal time to re-establish your professional goals. Unexpected change isn't always something we cherish as human beings, but it may be just what we need to recharge and/or refocus our lives. Using your career break time wisely, whether enrolling in a training course, undertaking a house-bound project or initiating a new exercise regime, may give you clarity on how you want your future career to progress. It may also add to your toolkit of professional offerings, particularly from the perspective of transferrable skills.
"Starting over is the opportunity to come back better than before." (Ryan Kahn, Career Coach)
Be positive and involved
The proactive filling of career gaps, as acknowledged in your resume (and LinkedIn profile), will probably be more appealing to future employers. While COVID-19 is going to be commonly accepted as a valid reason, a career break spent wisely is still going to stand out as an employment plus. It's also going to be more constructive to your own personal mindset, to keep yourself involved in forward-moving and forward-thinking activities. Whether that's volunteering your professional skillset to benefit others, attaining temporary contract work outside of your standard career zone, or becoming more involved in your children's personal development.
"One of the greatest gifts you can give is your time." (John Mulhall, Author)
The general rule of thumb is to account for career breaks longer than six months in your resume, etc. Consider what you did (or what you plan on doing) during that career gap, and whether this could be something to highlight. Some career breaks are going to be more professionally advantageous than others, but it's important to acknowledge these longer gaps. View them as part of your personal branding story.
__________________________________________________________________
If you've been considering a change in career direction and/or increasing your future job opportunities, it may also be time to consult a professional resume writer. From spicing up a LinkedIn profile to overhauling a resume and adding an often-critical cover letter, to writing up selection criteria attuned responses, Walton's Words thrives on creating career documentation that helps you to stand out. Give us a call or drop us a line if you would like to discuss your resume writing needs further.