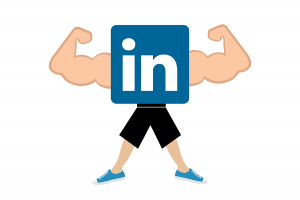 If you want to broaden your professional prospects, a well-considered LinkedIn presence is highly recommended. Thinking of yourself as a personal brand, this digital platform has many marketing benefits, including from a job seeking and career networking perspective. As at October 2020, there were 106 million active users on LinkedIn, including around 4.5 million in Australia. That's a lot of potential liaisons and connections, no matter what your career status and/or future ambitions are.
"LinkedIn is not just a place to find your dream job, but a way to be better at the job you already have." (Jeff Weiner, CEO, LinkedIn)
Here are 5 ways that you can both enhance and enrich your LinkedIn presence – to make it work for you:
Grow your LinkedIn connections: 500+ connections is regularly specified as the benchmark number, particularly if you're aiming to be an industry influencer. However, it's as much about the quality of your connections on LinkedIn, as it is about the quantity. Consider whether those you reach out to (or who reach out to you) will provide you with mutually beneficial opportunities and/or outcomes.
"Having merely a large network with little regard to its quality, allows little long-term merit. Please ensure that in the pursuit of growing your network you adhere to relevance as your core philosophy and never compromise on quality." (Rahul Kumar, CEO of Resonate Business Ignition)
Market your professional uniqueness: To optimise LinkedIn profile interest and engagement, stay true to your core career ambitions and offerings, and clearly communicate them. Highlight how you stand out and how this can be of benefit to others. Effectively communicating your brand mission on LinkedIn, while also interacting with relevant groups and individuals, is not only going to help others to locate and evaluate you, but also immediately clarifies your industry relevance.
"Content marketing is like a first date. If you only talk about yourself, there won't be a second one." (David Beebe, Brand Storyteller)
Positively engage and network: With many job vacancies filled via professional networks, building strong, cooperative bonds on LinkedIn will assist your career ambitions. It may also be beneficial to the advancement of your existing skillset and knowledge, with industry peers providing you with additional and/or alternative concepts and perceptions. Such network engagement is also an ideal way to promote your industry knowhow (along with your complementary personality traits).
"Active participation on LinkedIn is the best way to say, 'Look at me!' without saying 'Look at me!" (Bobby Darnell, Author)
Wisely apply keyword optimisation: In addition to using keywords to confirm your core professional strengths – those you want to be known for – they will also increase your chances of being found online. Consider what words target audiences are likely to type in to search for your industry/job type, and apply them – while using LinkedIn's prompts as much as possible. Just be careful not to overload your LinkedIn profile with keywords – interweave them without bogging readers down.
"Keyword research is the process of finding and analysing actual search terms that people enter into search engines." (blog.hurree.co)
Leverage cross-promotion tools: LinkedIn has been structured to enable its users to promote all facets of their business and/or brand offerings. This includes directly linking your website to your LinkedIn profile or company page, and to your articles or posts. You can also provide tangible evidence of what you can do, by attaching a portfolio of document samples and/or uploading relevant videos.
"The internet is becoming the town square for the global village of tomorrow." (Bill Gates, Software Developer)
______________________________________________________________________
Here at Walton's Words, we're committed to producing personalised, career advancing LinkedIn profiles (and company pages) that get results. Whether you're seeking a career change or want to stay open to networking or other business opportunities, we can develop or revamp your LinkedIn profile or company page to achieve your professional goals (your personal branding). Give us a call or drop us a line if you'd like to discuss your LinkedIn profile (or company page) further.