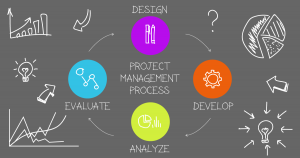 Even if you don't want to be designated as a 'project manager', project management capabilities are valuable to most employers. That's why I've listed it as one of the most common transferrable skills. Often used to transform ideas into reality, project management has been recognised by the global Project Management Institute (PMI) as a skill that will continue to escalate in demand. It recently estimated that 87.7M projects managers will be needed in the professional realm by 2027, and reported that on average, organisations are 50% more likely to fail in their change and other projects if they undervalue the need for high-competence project management.
"Operations keep the lights on, strategy provides a light at the end of the tunnel, but project management is the train engine that moves the organisation forward." (Joy Gumz, Director of Project Auditors)
Even if your career is not yet at a more senior project management level, you may still have demonstrated your strengths and abilities in this high-demand area. For example, think about whether you've contributed to a new system or procedure in the workplace, and how you helped to ensure it was applied and integrated to the benefit of the business. Perhaps in your studies you have been a core member of a teamwork project – how did you help to ensure everyone worked well together as well as individually on their own specific tasks and objectives (including yours)?
Some of the primary project management aspects to consider highlighting are:
Leadership (e.g. helping to drive both the planning and execution)
Negotiation (e.g. delegation of tasks, agreement on timelines and costs)
Scheduling (e.g. establishing a project plan that was clear and effective)
Cost controls (e.g. ensuring all budget restrictions were adhered to)
Risk management (e.g. identifying and minimising potential delays)
Critical thinking (e.g. ability to attentively observe/monitor and analyse)
Communications (e.g. reporting to senior executives and updating team)
Coaching (e.g. motivating and supporting team members to meet goals)
Quality management (e.g. maintaining consistency and compliance)
Adaptability (e.g. accepting and amending plans to overcome obstacles)
Practicality (e.g. being realistic about what can be achieved and how)
"The 'P' in PM is as much about 'people' management as it is about 'project' management." (Cornelius Fichtner, Chair of PMI)
With the PMI also citing that 90%+ of organisations now use standardised project management practices, you may want to consider undertaking additional and specific training in this area. I regularly encounter PM methodology buzzwords like 'Agile', 'Scrum' and 'Waterfall' as a professional resume writer, so having knowledge of such practices may give you a leading edge when competing against other job candidates. Such methodologies are well-recognised as providing a guide that enables projects to be planned, executed and completed in a proficient manner.
Even if you're not striving for a specialised project management position, there will likely be career benefits by highlighting any relevant experience. With continuous improvement and positive change seen as essential to most of today's businesses, any contributions you've made from a project management perspective will no doubt be highly regarded.
________________________________________________________________
Walton's Words has extensive experience in helping job seekers compile professionally written, career-selling documentation. We can help construct resumes, cover letters, LinkedIn profiles, selection criteria, and any other documentation that will help you win your dream role. So drop us a line or give us a call if you'd like some assistance with your next career step.