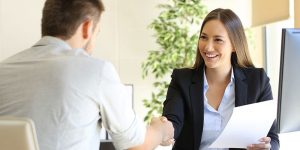 So you've gotten over the first major hurdle of making it to interview stage, via your professionally written career documentation. Now it's time to consider the next one – attending the interview. It's a scary prospect for most of us. But if you go prepared, the job interview jitters are far less likely to disrupt or distract you. You're also giving yourself a much better chance of winning that desired role – of standing out from your competitors.
"So many people out there have no idea what they want to do for a living, but they think that by going on job interviews they'll magically figure it out. If you're not sure, that message comes out loud and clear in the interview." (Todd Bermont, World-Leading Careers Coach)
To help you to prepare for the job interview, and to effectively sell your personal branding when 'meeting the boss', here are four factors to consider:
1) Lack of research could convey lack of confidence/capability
Even if you conducted research prior to applying, spend more time investigating the company, the role, as well as your most relevant offerings prior to attending the interview. Not only will this communicate your willingness to show initiative and go above and beyond, but you're also more likely to feel empowered and self-assured during the interview.
Company research may also influence what you wear to the interview – what's most appropriate.
"Never wear a backward baseball cap to an interview unless applying for the job of umpire." (Dan Zevin, Award-Winning Author)
2) Misguided transport and inappropriate talk could convey unprofessionalism
Well before your scheduled interview, spend time working out the most efficient route and car parking options (if relevant), and try to arrive 10-15 minutes early. It's not going to do you any job-winning favours if you turn up late and/or flustered. Another professional no-no is talking negatively about former employers, even if you did have a really bad time. Instead, think about how you could turn this into a positive experience if asked about it, such as how you tried to resolve the situation.
Also consider body language during the interview – sit up straight, look straight ahead, and smile.
3) Focusing on your career expectations could convey self-centredness
As you may have already learnt from your professionally written career documentation, it's far more about showing the employer what you can do for them – not what they can do for you. Keep this perspective alive while preparing for and attending the interview.
Convince the employer that you're the best candidate to meet their specific job needs.
4) A lack of questions and answers could convey a lack of discipline
As part of your research, deliberate on what sort of questions you may be asked, as well as what you may want to ask. For example, if you're asked about your professional weaknesses – a common interview question – think of one that you overcame and how that would benefit your new employer. Always try to put a positive spin on interview questions thrown at you, as comedian Mitch Hedberg once did:
"I had a job interview at an insurance company once and the lady said 'Where do you see yourself in five years?' and I said 'Celebrating the fifth year anniversary of you asking me this question'."
Also draft up some potential questions to ask them, based on your company research.
It's such a competitive employment market, so why wouldn't you want to continually stamp your stand-out skillset and capabilities – from when you first apply through to when the role officially becomes yours. Well-prepared, interview-savvy applicants are far more likely to register with the recruiters and the employers as ideal candidates.
________________________________________________________________________________
Walton's Words has extensive experience in helping job seekers compile professionally written, career-selling documentation. We can help construct resumes, cover letters, LinkedIn profiles, selection criteria, and any other documentation that will help you win your dream role. So drop us a line or give us a call if you'd like some assistance with your next career step.